Your Engagement Makes a Difference!
12-01-17
Seizing Opportunities to Join in God's Work
Seizing Opportunities to Join in God's Work
October and November were months of great energy and excitement!
Hundreds of adults and students engaged in meaningful small group dialogue and learned from Sunday messages during our All-Church journey, Transformed

.

Thousands came through our building for a free, fun night for families as we hosted our 10th Annual Great Pumpkin party.
Over 500 people were blessed through our partnership with the food shelf, as we assembled and distributed free Thanksgiving baskets to our local community.
We also celebrated the great work being done through our missionary partnerships in Burkina Faso Africa and Taiwan as part of Access Sunday.
And perhaps most exciting of all - we announced our first ever multisite campus, which will be in Sauk Rapids, scheduled to open in February 2018!
What a privilege we have to be part of a church where we can see God at work changing lives! And there are more opportunities! Engaging in the core values at Riverside equips each of us to do our part in helping reach others, as we grow together and serve each other:
Experiencing Grace
Riverside's Christmas Production is right around the corner; what a great chance we all have to invite people to hear a message of hope! Time after time when we ask new families how they came, or ask those who've just said 'Yes!' to Jesus for the first time what motivated them to show up, or ask those who've decided to give church a try again why they came to Riverside we receive the same response: "Someone I know invited me." Don't miss your chance to reach out to those in your circle of influence! Give them an invite, share a Facebook post, or request tickets today! It's also Gameshow Sunday this week - another easy invite for you to share with families who have kids grade 5 and younger.

Growing in Love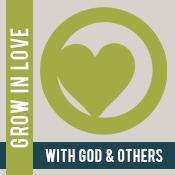 One of the best ways we grow is in community with others. When you make it a priority to come every week (or
stream online
) that's a great start. And when you choose to give, your resources allow us to share our message with others so they can connect and grow: on site, through social media, and with other platforms where truth can be shared. Including all the great stuff for
kids
on our lower level and the
student
events on Wednesday nights!
Small Groups
and
care ministries
also benefit from your generosity as we bring people together -- doing life together with others and inviting others to join you is a great way we can grow in our walk of faith.

Giving of Yourself
Acts 20:34 reminds it is more blessed to give than to receive, and there are so many opportunities God brings our way each day! He modeled giving, and invites us to follow His example. In addition to faithful stewardship of our financial resources, we can also give of our time and talents. And there are so many ways to do that at Riverside. Need a few ideas?
Volunteer for our work day this Saturday in Sauk Rapids - register here

Find a place to help during our Christmas Production - we'll have sign ups in the foyer this Sunday - come for one, serve for one!

Try a First Serve - it's a no risk way to try out an opportunity
God bless you Riverside family! Thank you for your generosity! May you continue to see the opportunities God brings your way as we head into the Christmas season.

Pastor Tom